January 27, 2021
Top 5 Trends Impacting Health Insurance Costs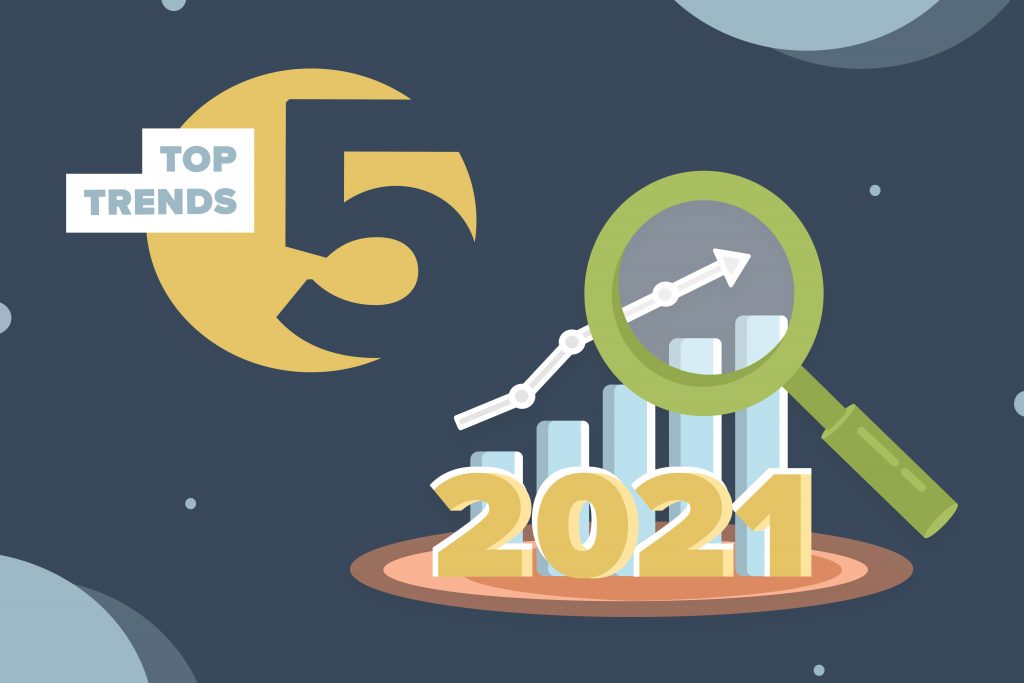 ---
Roundstone has been keeping tabs on the most creative and innovative solutions implemented by open-minded employer clients over the past year to better meet their employees' changing needs and control health insurance costs. We're also always on the lookout for what's coming next.
We all saw big changes in 2020 as we navigated the COVID-19 pandemic. Businesses found ways to keep the doors open and the lights on by being flexible, creative, and innovative. Employee benefits programs faced many unique challenges that, when considered with the same flexibility and creativity, ultimately have given way to big changes in the industry.
Now vaccines are on the rise, state and federal mask mandates continue to help stop the spread, and innovation again takes center stage when it comes to figuring out "business as usual" in a world constantly adjusting to an ever-evolving "new normal".
Health insurance cost containment will always be a main pillar of our self-funded captive solution, and is woven into the underpinnings of many of the trends we've spotted as 2021 game changers. Whether you're a benefits advisor looking to protect and grow your book of business, or an employer searching for a better alternative to the high costs of a fully insured plan, Roundstone's self-funded captive is the solution you need to start 2021 fresh, without the worry.
1. The Telehealth Revolution Came Early (and is Here to Stay!)
Unique constraints and needs drive innovation. With face-to-face interactions and hospital capacity limited at best for most of the year, telemedicine programs really took off in 2020. Nationally, telemedicine claims rose 2980% from September 2019 to September 2020. Telemedicine solutions help patients get care on demand, expand access to care, and connects users to prescriptions and treatment more quickly.
We at Roundstone especially love telemedicine because it doesn't have to be an expensive addition to your plan. Many local hospital systems provide (and have expanded) some form of telehealth service, and additional programs can be found for just a couple dollars per employee per month (PEPM). If you're searching for a telemedicine provider to take advantage of this type of benefit, download our guide for tips on questions to ask potential providers.
2. New Ways to Mitigate Rising Pharmacy Costs
If you've been tuning in to Roundtsone's blog on self-funding, this will come as no surprise. Pharmacy costs are on the rise (and projected to keep increasing in 2021). Pharmacy spend is one of the healthcare-related costs most likely to be over-inflated, and it's also a cost that has a plethora of options to help reduce overall health insurance costs.
Roundstone's self-funded captive model offers the option to choose your own Pharmacy Benefit Manager (PBM) to help contain those costs. PBMs can also help you find patient advocacy programs, drug manufacturer coupon programs, and other ways to keep prescription drug costs low and manageable. Check out our PBM guide for more information on the different types of PBMs, and the benefits of choosing the right partner.
3. Data is the New Doctor
Data is more than a competitive advantage for business today – it's vital for a healthy future. Being data and insights-driven is more important than ever as the healthcare landscape and modern medicine gets more sophisticated.
In fact, science, data, and technology now work together to help doctors "identify illnesses and conditions earlier, intervene proactively, and better understand a disease's progression." How can data help you stand out to your clients when underwriting a benefits solution? Roundstone's CSI Dashboard gives employers access to their own data, along with industry benchmarks and cost containment recommendations. By giving your clients new and actionable insights, you'll position yourself as a true advisor who can help clients diagnose and deliver health insurance cost containment and other measures.
With a captive solution, you benefit from data and analytics across a group of like organizations so you can compare against peer benchmarks, identify outliers, and make fact-based decisions for better care and outcomes. Roundstone's CSI (Cost Savings Investigators) Team helps you dive into your data with monthly CSI reporting, and recommendations for solutions that help employers realize huge savings.
4. Mental Health Diagnoses Trending Up
Disturbingly, a recent CDC study found that mental health diagnoses are increasing. As my own doctor said to me recently, "No one is coming in here and not ticking the anxiety box." The national rate of anxiety in the United States tripled in the second quarter compared to 2019 (from 8.1% to 25%), and depression almost quadrupled (from 6.5% to 24.3%). What does that mean to benefits advisors and employers? Finding and implementing mental and behavioral health services is becoming a crucial step in designing a benefits plan.
Roundstone's specialized health insurance cost-containment consultant offers employers their choice from several partners that offer mental and behavioral health services, while staying true to the mission of cost containment.
5. Self-Funded Captives on the Rise
For all the reasons mentioned above, we're glad to represent a solution that's trending in 2021.
The self-funded captive model is flexible, designed for transparency, cost containment, and control. More and more employers are becoming open-minded to a captive plan, not only to save money, but to provide employees a customized benefits plan that meets their needs and fights rising health insurance costs.
The bottom line is, if you're an advisor and not offering these benefits, your competitors will be. If you're a business looking at new options for health insurance this year, you'll know that your employee benefits package is a huge part of what helps you attract and retain top talent– it's smart to offer a more custom plan (especially when it costs less). Roundstone employers save up to 20% compared to most fully insured plans, and get so much more.
These trends in healthcare insurance costs for 2021 highlight the desire for flexible insurance products and tailored policies. Being open-minded and creative about the value a self-funded captive model offers can help you thrive this year.
Pandemic burnout can be supported by mental health services in your benefits plan. In fact, mental health support is a top trend for 2021. Our Top Trends webinar went into further discussion on these topics with experts Dr. Eric Bricker and Roundstone President Michael Schroeder. Watch the recording and learn new ideas for a better future.
Ready to dig in deeper? Schedule a complimentary cost containment assessment tailored for your organization. You'll get ideas and recommendations on how to approach your own cost containment strategy – and an introduction to how Roundstone's experts and unique consultative approach help our clients save every day.