By the Numbers: One Size Does Not Fit All
No two employers are the same, even within the same industry. They can vary based on their size, the ages of their employees or their company's geographic location. This also means their healthcare needs will be very different. This is one of the reasons why Roundstone provides customized healthcare solutions. Unlike our competitors, we don't offer a cookie cutter, one-size-fits all approach.
Here are just a few examples of the diversity that can be found within our captives:
1) 54% of the major Standard Industrial Classification (SIC) codes can be found in our captives. Even within a private captive where you would expect everyone to be similar, we still find a variety of SIC codes. For example, in a private captive with 33 similar companies, 5 of the major SIC categories and 11 of the minor industry groups are represented.
2) Our participants can be found all across the country in well over 120 separate metropolitan and rural areas. People in these areas have different needs. For example, a family living in a rural community may have vastly different healthcare needs than a young urban professional. A large staffing firm in rural Indiana is radically different from a tech start up with young 20 somethings in Massachusetts.
3) Within our captives, the average size of our employer groups is around 100 enrolled employees and 50% of the participants fall between 46 and 121 employees. That is a fairly large range. Companies with 50 employees may have needs different from a company twice that size. Not unlike how an accounting firm with 30 employees may not require a formal IT department like an accounting firm with 200 employees, those firms would also have different healthcare and cost containment issues and needs.
4) Around 2/3 of our groups' average ages fall between 41 and 49. But what about the employers whose employees fall outside of this range? They may have young tech savvy employees who are wanting more online or mobile resources, or they may have older employees with unique prescription usage needs.
What does all this add up to? Bottom line—one size does not fit all. So, why would we try and use the same solution for each firm?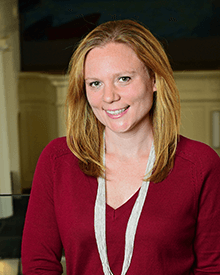 Abigail Riolo, M.Ed., MS
Data Analyst
As a Data Analyst with Roundstone, I work with Roundstone's leadership, underwriting, claims and accounting teams to develop data-driven reports with actionable recommendations that help employers control their healthcare spend.
Previously, I worked for several school districts in Ohio as both an educator and a data analytics adviser. I developed a data-based program to guide school systems through student testing, teacher training and resource management. While working on my second Master of Science Degree, I co-authored a paper on the statistical relevance of customization in classroom-based learning techniques. When I'm not crunching numbers, I enjoy spending time with my husband and our three children.