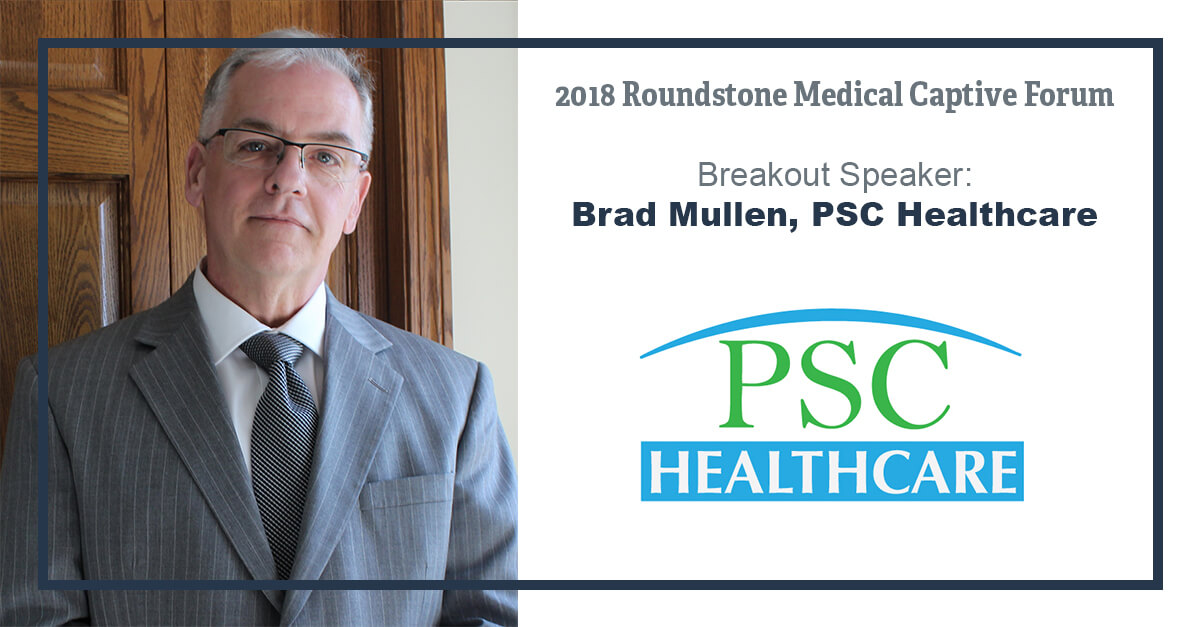 Speaker Spotlight
Brad Mullen
Senior Vice President, PSC Healthcare
Mullen is a seasoned benefits consultant and executive with recognized expertise in the healthcare delivery costs and telehealth industry. He is experienced in reducing healthcare costs and improving bottom line performance while addressing employee/patient needs cost effectively. He has appeared at a number of national conferences as a recognized expert in telehealth and testified as an industry expert for Ohio's subcommittee on telemedicine.  Serving from an actuarial capacity, Mullen works in both retail telehealth and private market delivery supporting commercial populations as well individual practitioners and hospitals.
Tell us a little bit about PSC Healthcare.
PSC Healthcare is an innovation leader in the telehealth industry. More than just a service to connect patients and doctors, PSC Healthcare is a technology company that develops communication platforms and applications for the entire healthcare industry. Our portfolio of services includes telemedicine, health and wellness and Cloud-based HIPAAA compliant services for independent physicians and hospitals.
How do you partner with Roundstone?
Partnering with professional organizations like Roundstone, we understand that medical service delivery models can impact the final cost of a benefit program. Our goal is to provide the correct programs alongside insurance products that improve medical service delivery and patient outcome while reducing medical care costs, both short and long-term. The bilateral relationship allows us to understand market trend from Roundstone while providing insight to current and emerging healthcare technology.
What do you hope guests take away from your breakout session during the 2018 Medical Captive Forum on May 9?
The telehealth industry is the fastest growing segment of healthcare. More than just a doctor available at an odd hour, this industry is expanding into every segment of healthcare. I hope to share with the audience information about programs they already have and provide tips on making these products work better. With healthcare costs representing one of the fastest growing line items on the P&L, every business owner should be interested in the technologies that are here and those just around the corner. Services and applications that will be presented can improve healthcare delivery for employees, reduce costs for everyone and help reduce future claims.
What are you looking forward to at the 2018 Medical Captive Forum?
An accountant by trade I spend a lot of days studying our client systems and providing industry forecasts for our company and stake holders. I seldom have opportunity to share in open forum the exciting developments of this industry. I love meeting people and public speaking and it is a privilege to represent PSC Healthcare at forum for a respected provider like Roundstone.
What is the middle market's challenge and how does your solution apply?
The middle market has the challenge of being large enough to entertain creativity but small enough that they must rely on third party providers to supply solutions. Like everyone else in our industry, we provide standard telemedicine that can serve these sized clients adequately. Unique to PSC Healthcare, however, is that we also own the technology that allows us to scale a service down to a group building a virtual healthcare system using the local doctors and clinics of the client's choice. This market is large enough to enjoy the savings of a service with very low fixed and variable costs as opposed to a capitated rate across the entire population, regardless of use.
Anything Else?
PSC Healthcare was started by a Los Angeles physician who began his career at Cleveland's University Hospital in 1972. Dr. Steven Meyer has had a distinguished career in medicine and oversees the development of services that continually improve the speed, quality and breadth of coverage of virtual medicine. In recent years, his passion for independent physicians and local hospitals has guided the development of cost effective platforms for these providers to compete in the rapidly evolving EHealth industry that has been poaching their patients for ten years. Not just a leader in the industry, PSC Healthcare is the only telemedicine provider to have been awarded the GE-Intel Care Innovations Validation Certificate and has received the endorsement of The Independent Physician Association of America.
Meet Brad Mullen
Interested in learning more? Catch Brad's presentation during his 1:10 pm or 2:00 pm breakout session. Click here to see the entire day's agenda for our 2018 Medical Captive Forum. And be sure to register here.