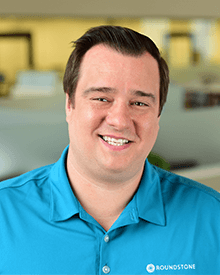 Regional Practice Leader
swalters@roundstoneinsurance.com
Sam Walters serves as Regional Practice Leader and is responsible for several states including; CA, HI, MI, NV, and NM. He has been with Roundstone since 2014. Sam is focused on finding solutions that help small to mid-market employers contain costs and take back control of their healthcare spend. Sam has been in the Insurance Industry since 2005, with experience in Commercial Property & Casualty, P&C Captives, and Medical Stop Loss Captives.
Since 2005, Roundstone has pioneered group captive self-insurance solutions for the health care marketplace, to include health insurance, malpractice, voluntary benefits, as well as other exposures in the area of transportation, warranty and workers' compensation.
Sam was born and raised in Cleveland. He attended St. Ignatius High School and received a Marketing Degree from Cleveland State University. He's a huge Cleveland sports and a big Ohio State Buckeye fan. While not traveling, Sam enjoys time fishing on his boat and spending time with friends and family.