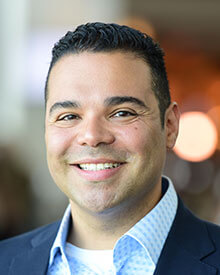 Regional Practice Leader
ecastro@roundstoneinsurance.com
Eddie Castro serves as Regional Practice Leader and is responsible for several states including; DE, DC, IN, IA, KY, MD, MN, VA, and WV. Eddie's primary responsibilities include prospecting and new business development, targeting mid-size employers.
Since 2005, Roundstone has been a leading innovator in providing group captive solutions for a variety of exposures, including health insurance, malpractice, voluntary benefits, transportation, warranty and workers' compensation.
Eddie comes to Roundstone with 20 years of marketing and sales leadership experience in the risk and insurance industry working with self-insured organizations to help them recognize their risk, and identify ways to improve processes and reduce costs. Coming from a niche third-party administrator, Eddie's focus was working directly with risk management, brokers and carriers.
Eddie attended both Bowling Green State University and Baldwin Wallace University. He is licensed in P&C, Accident and Health, Life and Variable Annuities by the State of Ohio and is a member of the Risk Management Insurance Society (RIMS).
Born and raised in the Cleveland area, Eddie now resides in North Royalton with his wife, Joanne, and three children, Bradyn, Vivian and Syrus. Eddie enjoys working out, camping and is a fan of all things Cleveland.