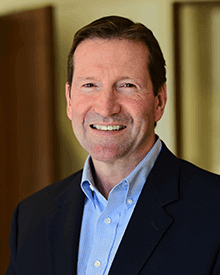 Executive Vice President of Sales and Marketing
rhamilton@roundstoneinsurance.com
Since March 2016, Rob Hamilton has served as Executive Vice President of Sales and Marketing for Roundstone Management based in Lakewood, Ohio. Rob's primary responsibilities include prospecting and new business development, targeting mid-size employers.
In addition to managing the Marketing department at Roundstone, Rob maintains direct oversight of the sales team including pipeline development, recruitment and training, while maintaining an industry leading client retention rate.
Rob offers over 20 years of executive sales leadership experience and P&L responsibility. Rob's expertise in the wholesale distributor model has proven invaluable by working with intermediaries and expanding Roundstone's national footprint with its innovative, group medical insurance products.
Rob received a bachelor's degree in industrial technology from Eastern Illinois University. Originally from the Chicago area, Rob has lived in Cleveland, Ohio since 1999.