The Roundstone Advisors Council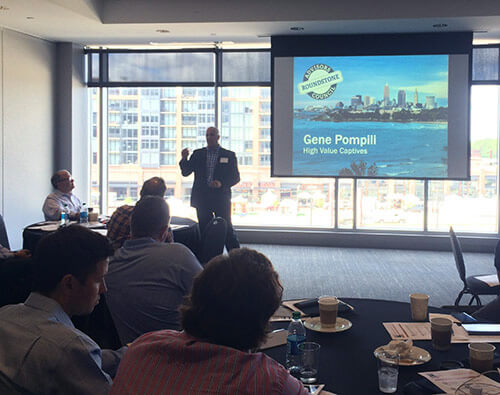 In August, Roundstone established a select group of top-performing advisors, called the Roundstone Advisors Council. The council was put together as an opportunity for everyone to come together and share ideas as well as provide valuable product development feedback.
The first meetings were held on August 17 and 18 downtown Cleveland, Ohio. The meeting kicked off at Progressive Field with a Cleveland Indians game. The next day, the agenda at the Aloft Hotel included presentations on Voluntary Benefits, Provider Sponsored Health Plans and High Performance Captives.
The Voluntary Benefits session was led by Nelson Griswold a leading expert in the VB field. His presentation tackled the key breakdown points when selling to employers as well as how to overcome them.
Mike Schroeder, president, and Matt Monda, COO, at Roundstone presented Provider Sponsored Health Plans. Gene Pompili, senior vice president at Roundstone presented High Performance Captives.
"The smartest guys in the industry are sitting right here in this room," said Mick Rogers of Axial Benefits Group. "Bringing our combined knowledge and experience together, we're at a real advantage."
Going forward, the council will meet in person two times per year. New members will be recruited for the council as their Roundstone book of business grows.