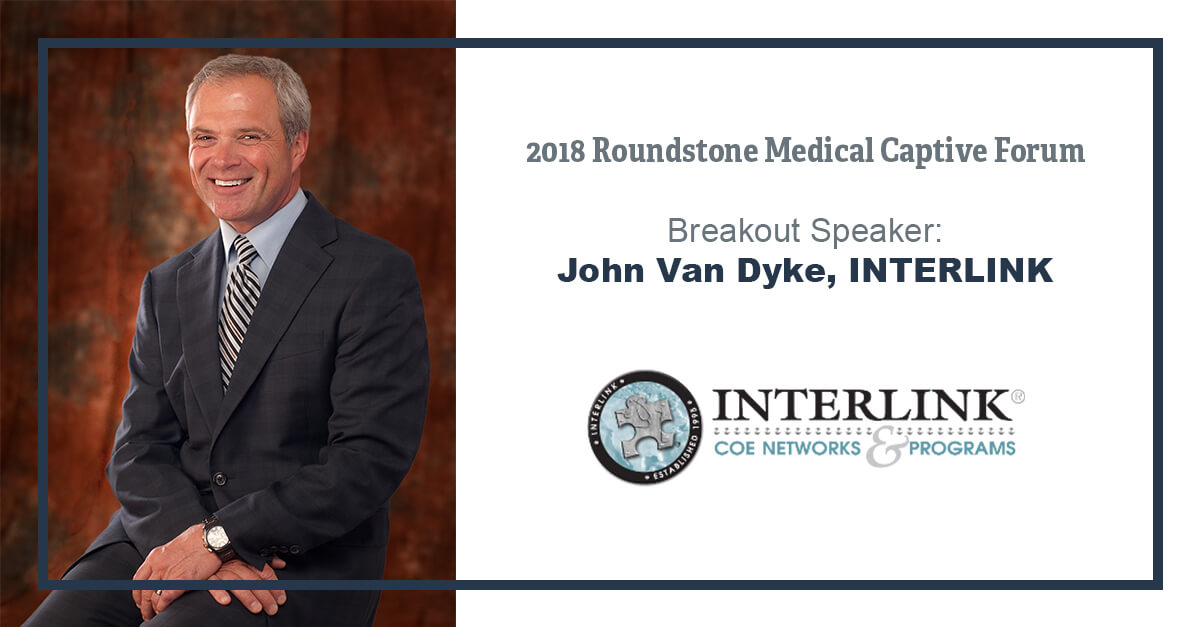 Speaker Spotlight
John Van Dyke
Chief Executive Officer, INTERLINK
John is known for designing health cost solutions based on improving care quality. Better outcome care most often uses fewer units of service, which lowers billed charges. Considered an expert in the Centers of Excellence (COE) model of care, John oversees development and operations at the nation's largest privately held COE vendor, INTERLINK® COE Networks & Programs.
INTERLINK collects and analyzes outcome information of all types and is expanding the COE concept for transplantation into other high cost/low frequency procedures. Working with in-house medical and legal teams, INTERLINK solutions pair outcome narrowed performance networks with custom developed benefit plan language for health plans seeking to focus on best outcome care.
Tell us a little bit about INTERLINK.
INTERLINK specializes in solutions for low frequency, high cost medical procedures. Our solutions are focused, economical, and improve care quality of the plans cancer and transplant patients. Cancer is a #1 plan expense, #1 captive layer expense, #1 reinsured claim, and the #1 cause of personal medical bankruptcy of the plan's most vulnerable members. Our cancer and transplant solutions are fully integrated and are unlike any solution you may have encountered.
Our cancer solution starts with benefit language. About 95% of the plan documents we review do not have a cancer subsection, and without adding structure and definition to this benefit, costs will continue to rise steeply. We supply benefit language and pair that with four Centers of Excellence Networks built for CancerCARE. Our goal is to ensure your members receive personalized cancer treatments, occurring 95% of the time in their community, by a doctor of their choosing. Our approach is novel.
When implementing our cancer solution, the plan is now managing 41% of their transplant risk from diagnosis. Bone marrow transplants for cancer is now the most common transplant type, so the plan only needs a solution for kidney, heart, liver (now totaling 93% of total transplant risks) to be successful. Our Performance Model for transplant identifies the best programs for your members, so most plans insert cancer and transplant benefit language at the same time.
How do you partner with Roundstone?
Roundstone is an innovator; and, so is INTERLINK. Innovative brokers and employers come to Roundstone looking for novel new approach and Roundstone delivers.
INTERLINK feels fortunate to be a Roundstone solutions partner, which implies we are best-in-class. We are the transplant and cancer solution offered to clients, and we hope you choose us as one of the cost containment programs.
What do you hope guests take away from your breakout session during the 2018 Medical Captive Forum on May 9?
We hope guests will review their plan cancer provisions and accept that their #1 plan expense is that way for a reason and take action. Our language addresses all the cost drivers of cancer costs and will fortify your plan for the next decade.
What are you looking forward to at the 2018 Medical Captive Forum?
We always enjoy watching the team-based problem solving among captive members. Employers join captives to share risks and create the risk profile of a much larger health plan. Larger plans easily identify and implement remedies for top expenses but captive members must coordinate implementation. With cancer generally being the top captive paid claim, our solution always stimulates team-based solution thinking and discussion.
What is the middle market's challenge and how does your solution apply?
As it relates to cancer and transplantation, middle market employers are challenged to find today's most contemporary benefit language and innovative approaches. The plan language and approaches INTERLINK provides will put your plan on-par with benefits offered by the nation's largest employers.
Anything else?
Cancer and transplant costs are such a large captive issue, captives often require benefit plan insertion and program implementation across the entire captive. Often stop loss providers reward plans who implement our solutions, so you can:  1) improve member outcomes; 2) lower captive and reinsurance claims; and, 3) improve the health of your health plan.
Meet John Van Dyke
Interested in learning more? Catch John's presentation during his 1:10 pm or 2:00 pm breakout session. Click here to see the entire day's agenda for our 2018 Medical Captive Forum. And be sure to register here.